Hadley and Hayes
September - December, 2005
(Posted on) February 12, 2006
Happy 2006 from sunny, warm Brooklyn New York! That is what we would have written any other weekend this winter. Today we write to you from under a whole LOT of snow. (22.8 inches reported in Central Park. That's ¾ of Hayes!) We hope you've had a great New Year so far and are staying warm!
Here, we're wrapping up the pics from the end of 2005, and we are simultaneously posting a ton of pictures over on our brand new 2006 page. And now onto the last of the 2005 pictures!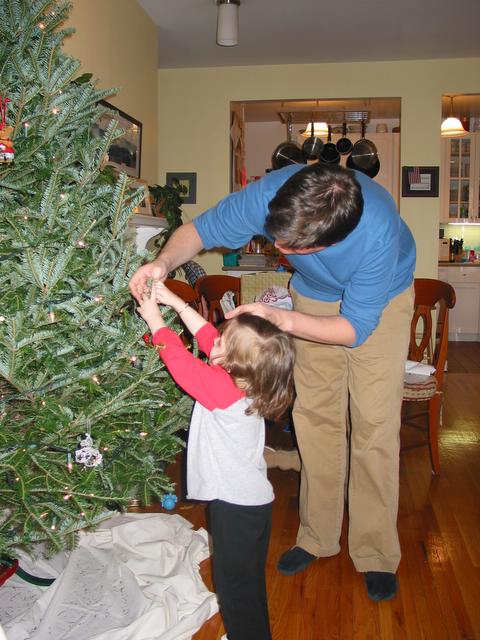 Hadley was VERY helpful decorating our tree this year. There were many areas that were simply saturated with ornaments as high as her arms would reach! It was very cute.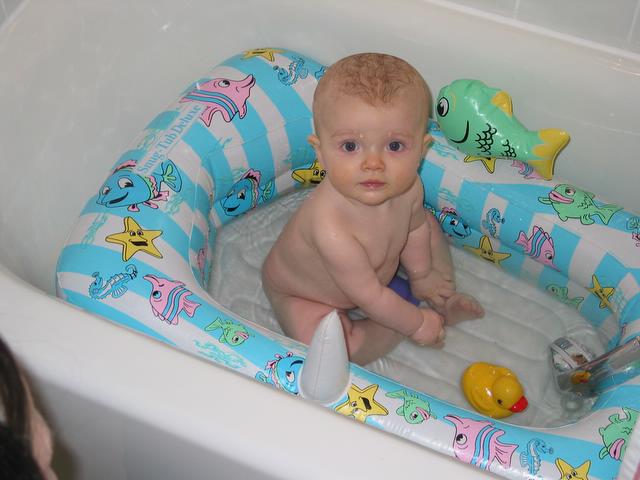 Hayes has graduated to the blow up tub!
Hadley, Daddy and Mommy made cookies for Santa! Santa must have really loved them, he nearly ate them all up!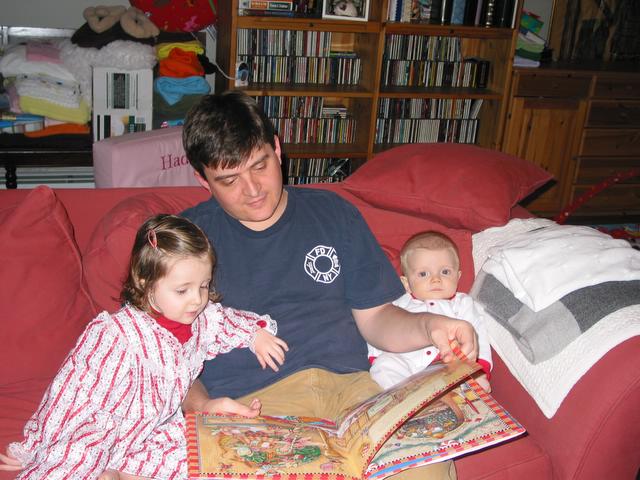 'Twas the Night Before Christmas.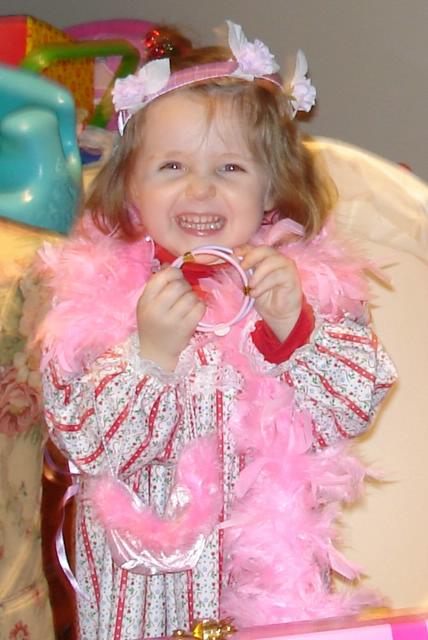 Hadley got a dress up trunk from Santa and decided to try it all on at once! This was about hour 7 of present opening. We were all a little punchy.
Ok, so if you want to see more pics posted today, go here.
December 18, 2005
Hello and welcome back! We know it has been a really long time since our last update, longer than we had expected. As you can imagine, the Fall flew right by and here it is nearly the New Year! 2005 has been very good to us and we are ending it up on a great note. And now, what you have been begging for…
Pictures!
Hayes started eating 'solids' at around 4.5 months. This really improved his reflux and colic issues and he is now a really fun, happy baby. And dare I say…easy!? Here is his first attempt at some rice cereal.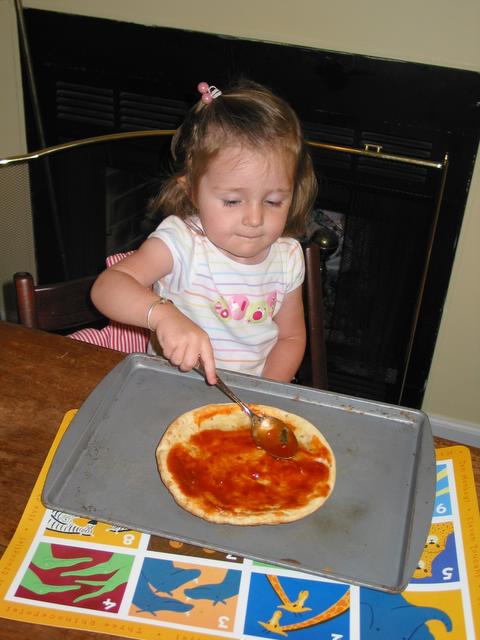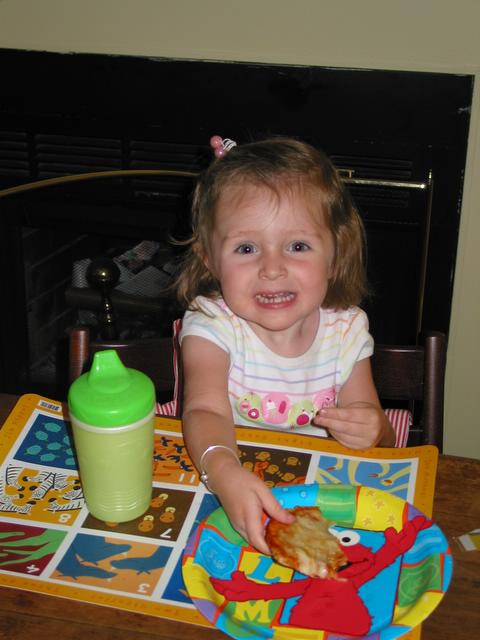 Hadley has broadened her food horizons a bit as well! This Brooklyn girl finally loves a good pizza pie! Here she is making a pizza at home and enjoy her efforts.
Hadley has become quite a Mommy herself since Hayes came to town. Here she is playing with her Baby Serena. She likes to imitate everything that Mommy does with Hayes.
Hadley started school! This is her with her (empty) backpack in front of her new school, Grace Church School.
This is a great picture. Jamie thinks it's cute because it looks like Hadley is saying "He's my brother!" Molly thinks it looks like she is saying "I'm with Stupid!"
Dinny came to visit in early October and you know what that means! Silly kid pictures!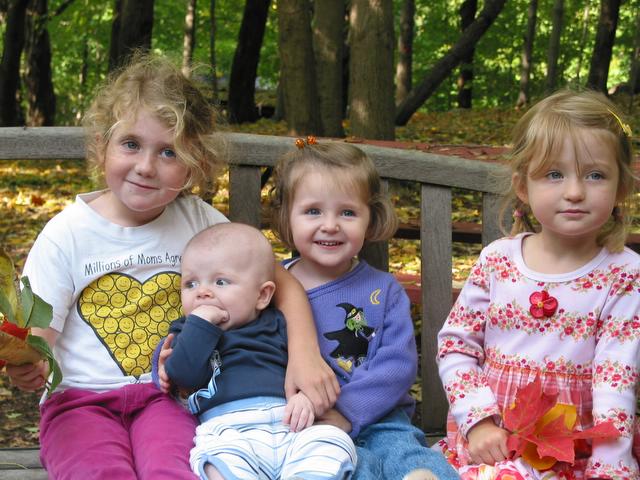 We all headed to Katonah for Hayes' Christening in October. Here are all of the Talbot grandkids, Mills (L) Ellery (right) and Hadley and Hayes.
Here's Hayes during the actual Christening with Rev. Terry Elsberry.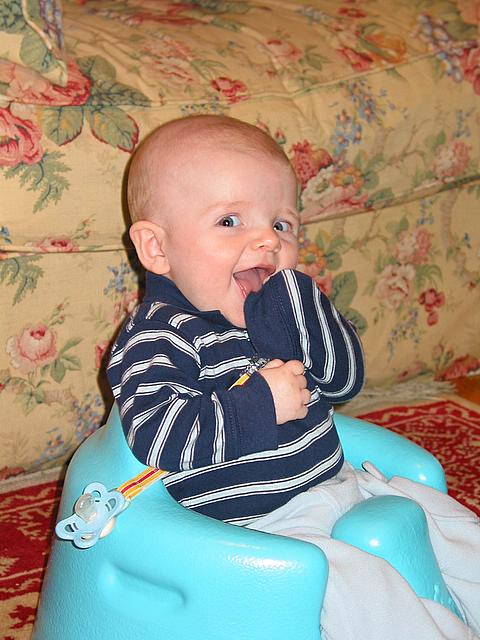 Hayes in his Bumbo seat!
Hadley has always loved it when Jamie plays the guitar.
Hadley one day 'spelled' our names out with her magnet letters. Orange was Daddy, Green was Mommy, Yellow was Hadley and Blue was Hayes.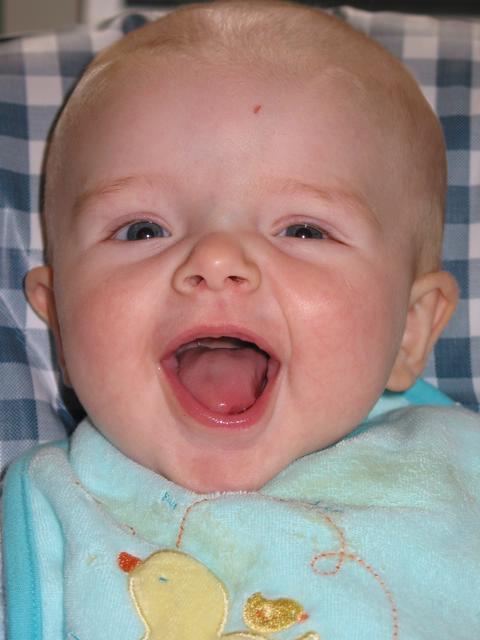 Such a typical Talbot kid picture, wide open smile!
Jamie and Hadley carved a pumpkin and turned off all of the lights to see it in the dark. If you look closely you can make out Hadley on the right.
Hadley is a huge fan of Dan Zanes and we are very lucky that he leads our Halloween parade and gives a free impromptu concert afterward. As you can see Hadley was front and center (in the Monkey suit), next to her friend Bella, who was dressed up as Dan Zanes.
The Monkey and The Banana!
Hayes post bath.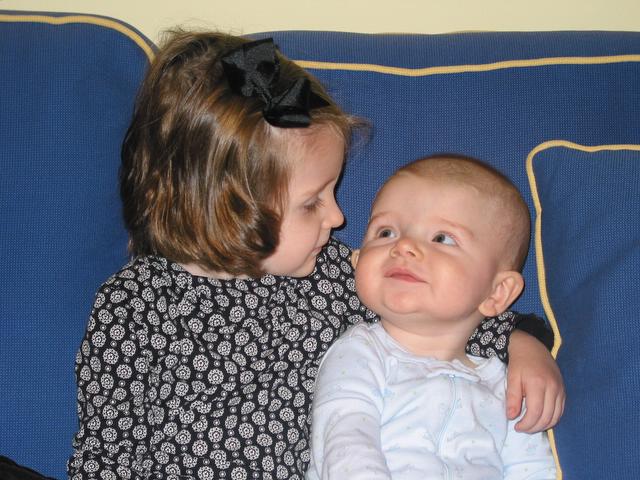 Just so cute…
Thanksgiving Dinner! She ate, well, some of it. Mostly the stuffing/dressing.
Hadley wanted to have some pigtails, like her cousin Ellery.
Hadley saw Santa at Yankee Candle! (He was a little boring!) She asked him for lipstick and a rattle for Hayes. We'll see what he brings!
Merry Christmas to all and to all a good night! See you in 2006!
Back to the Kids page.
Back home.