Pictures from New Years Eve, 2005-2006
We don't always make a page for it, but (nearly) every year for the past 5 or so, a group of couples and us have gathered together in some single location for New Years Eve. A few years ago, we did it in Boston and made a page to prove it. Other years we've done the Outer Banks and New Jersey.
This year, we gathered in Cape Cod. Six couples and eight kids under 3 (one set of triplets) got together. Most of us (including all of the kids) stayed at Pat and Denise Goggins' house (Dinny and Pop to some of you). Four of the grown ups stayed in a rental down the street.
People in attendance:
Andrew, Karen, Elizabeth, Brendan, Caroline and Jack.
Tim and Nick.
Mike and Anna.
Bill and Trish.
A great time was had by all....until.... Twenty people in confined spaces during flu season. What do you think happened?
Starting New Years Day, and progressing very quickly through all but a handful of us (only two of the adults got through unscathed), we got the flu. Full on, feeling terrible, both ends open flu. Thus the background color seen here. All hail Vomarrhea 2006!
Now, the pictures (mercifully few of sick people):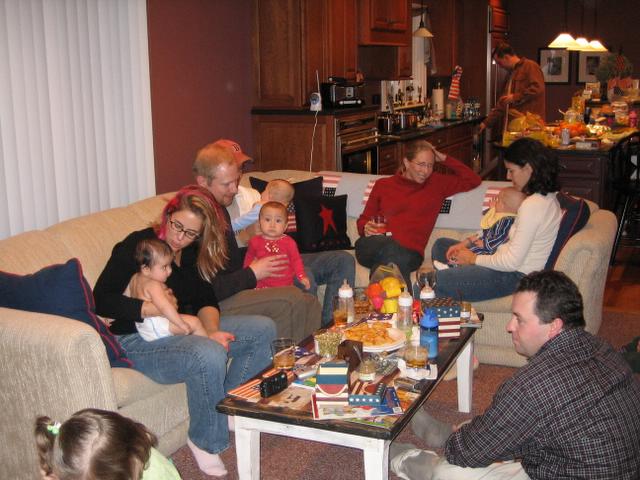 This is small sample of the people attending, but you do at least see four of the five infants who were there.
Before we all got sick, we went to the beach. That's Hadley way in the back in the red, and her bestest buddy Elizabeth in the blue.
Spread out along the beach.
We tried to get a picture of all the toddlers (Hadley, Elizabeth and Aakash) together, but it was like hearding cats. This was the best we could do.
Hadley and her godfather Mike.
The Sells.
Of course, we played a good bit of Jenga, and here you can see some of the rules written on the pieces ("Impress us" is a personal favorite).
That's Nick.
We watched the ball drop in Times Square, and of course everyone kissed at midnight. I'm not sure who took this picture!
One benefit of having a house full of kids was that we had toys to play with!
Hadley and Aakash liked playing hide and seek together. Sometimes Aakash got a little closer than Hadley expected!
Here are Hayes and Brendan, one of the G triplets.
Our one picture of a flu victim. Here's Hadley, after everyone else left, on her sick couch.
And, to boost our Google hits, here's a shot of women wrestling.
This is, of course, just a small sampling of all the pictures we took that weekend, and for those attendees who want them all, if the rapidshare links are dead, let me know and I will send them to you.
Back home.
Because I am a lawyer, I will point out that my photos are copyright (c) 2005-6 by James Talbot. All rights reserved.