Hadley and Hayes
August, 2005
August 28, 2005
A huge update! 26 pics for you all to enjoy, covering a solid 2 months of activity!
Also, we wanted to fill you in on some details on Hayes. As some of you know, the poor kid had a rather nasty case of reflux for the first 3 months of his life or so. He was miserable for much of the time. Well, now, we're very happy to say, he seems to be getting over it. He is on a new medicine, and it really seems to be helping him out, so there are lot more smiles coming our way! As you will see below, he has a grin that can make you melt.
And now, on with the pics!
This was actually before the new medicine, but it's a sight we see a lot more often these days.
At the end of June, we went to a party out on Long Island for our friends the G's, their triplets and big sister Elizabeth. Hadley had a great time reuniting with her friend Elizabeth, whom she last saw over New Year's Eve 2 years ago. Here are some shots:
The first one is Hadley and her godfather Mike. The second, Hadley and Elizabeth sharing a banana.
This is pretty much classic Hadley.
Fourth of July! Hadley and Hayes were on Cape Cod with Molly and her parents. They marched in a parade (with some minor Kennedys), and had a good time with Dinny and Pop.
Hayes' winning smile!
As you may have guessed, Jamie was not on the Cape with Molly and the kids over Fourth of July. This is Hadley calling Jamie on her "shellphone." Get it?
While on the Cape, Hadley put stickers all over Hayes as if he were a package being shipped overseas.
At the end of July, Molly and the kids returned to Cape Cod, but this time Jamie was able to come, too! Here are Molly, Jamie and Hadley crammed into Hadley's beach tent.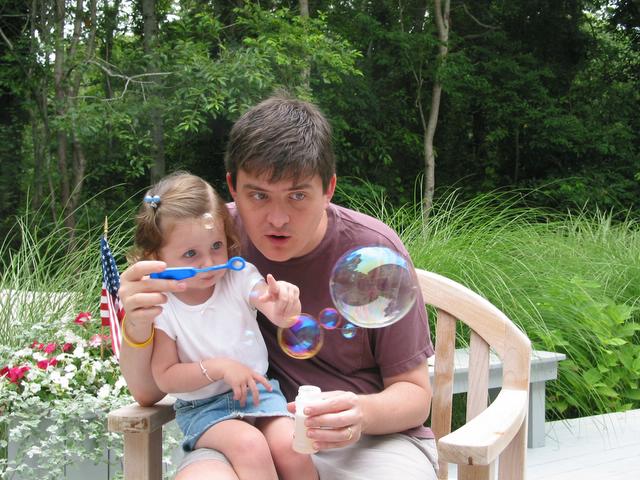 Jamie and Hadley also had a good time playing with bubbles.
Hadley particularly enjoyed the bubble gun.
And here are Hadley and Hayes and their Dinny and Pop.
Hayes in the obligatory sailor suit.
Hadley is already a little Martha Stewart in the making. Here she is threading beads to make a necklace.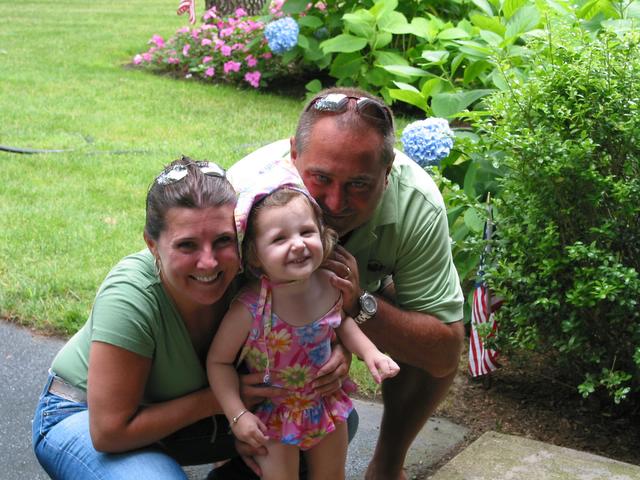 Hadley and her Aunt Bridget and Uncle Steve.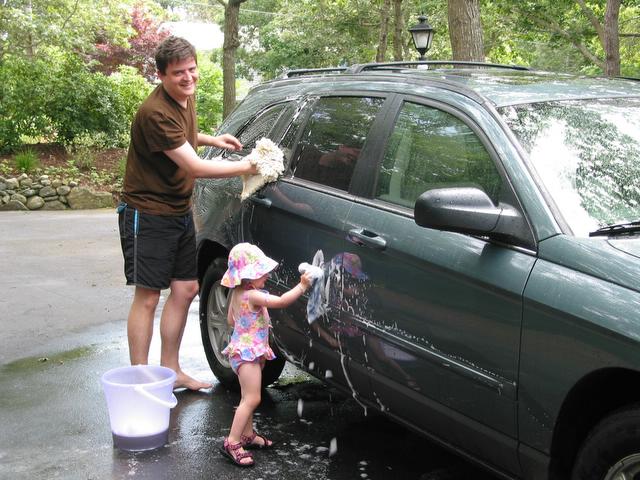 While on the Cape, Hadley and Jamie washed the new car. Hadley was very helpful - she especially loved the sprayer!
Hadley and her first cousin once removed, Emily.
On a very hot day in August, we went to the Bronx Zoo. We didn't stay very long because of the heat, and the animals were mostly lying around trying not to overheat. Hadley seems to like it anyway (here we watching the seals), but Hayes had a bit less fun.
We also all went out to Lulie and Pops' house in Katonah, where Hadley had a lot of fun playing in the pool. Here she is jumping off the side to Pops!
Here is Hayes feeling much better, thank you very much!
Part of Hadley's weekend ritual is reading the New York Times over breakfast (literally).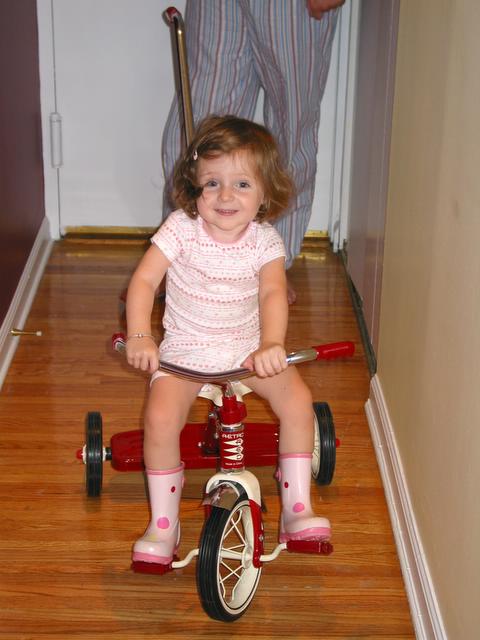 Hadley finally getting a chance to ride her new tricycle! (Thanks to Aunts Bridget and Erin!)
And finally, as a send-off, another winning grin from Hayes!
Back to the Kids page.
Back home.