Hadley
August - December 2004
November 4, 2004
Notwitstanding the outcome of the election, things are well and good here in Brooklyn, and we have a ton of Hadley pictures to show you.
So, without further ado, we're off!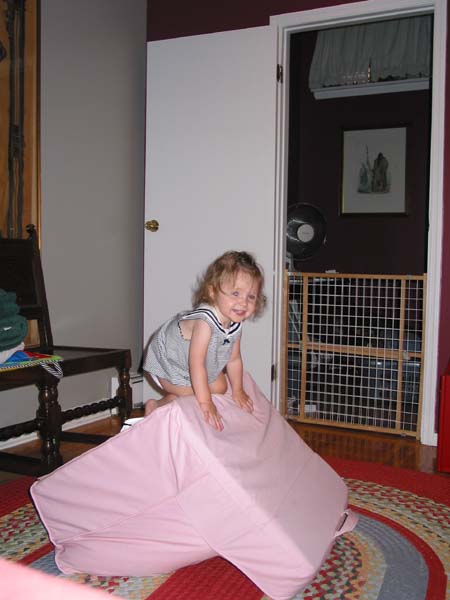 As you can see, Hadley is a full-scale, happy, climbing kid. What a difference from this, just a year ago: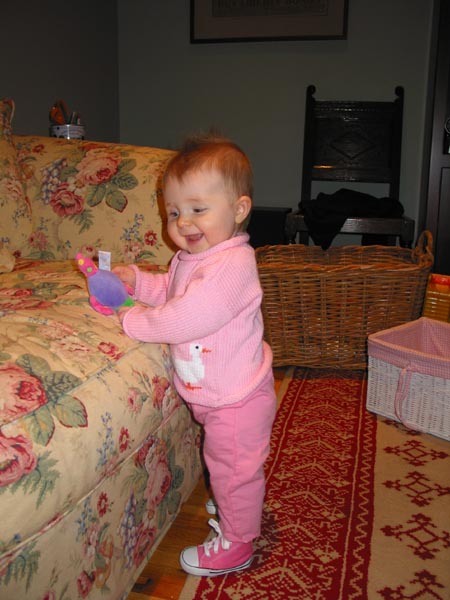 It's such a cliche, but they really do grow up so fast!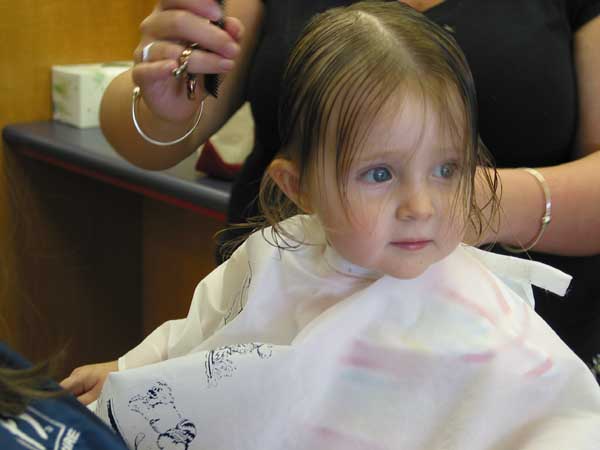 She was growing quite a mullet in the back, so in early September, Molly took her to get her first real haircut. She was a real champ during the whole thing.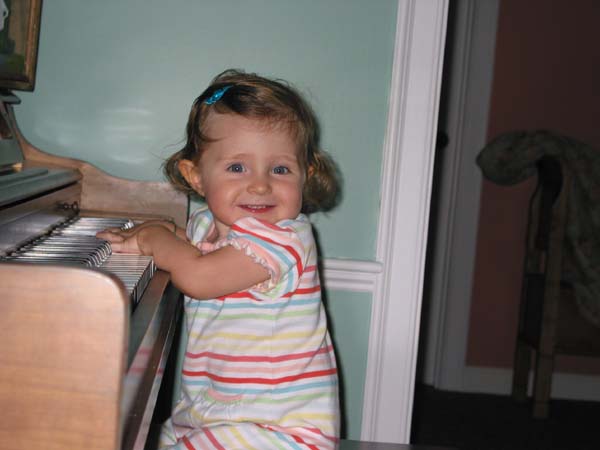 And here she is later that day. The haircut really makes her look more like a little girl!
Mike and Anna Conathan got married at the end of August, and they were nice enough to invite us out to Saquish for the very end of their honeymoon. This picture is, of course, Hadley and Molly in the midst of a hug. Perfect for framing!
As part of her little girl transformation, Hadley has recently discovered that she likes to dress like a ballerina. With boots, of course.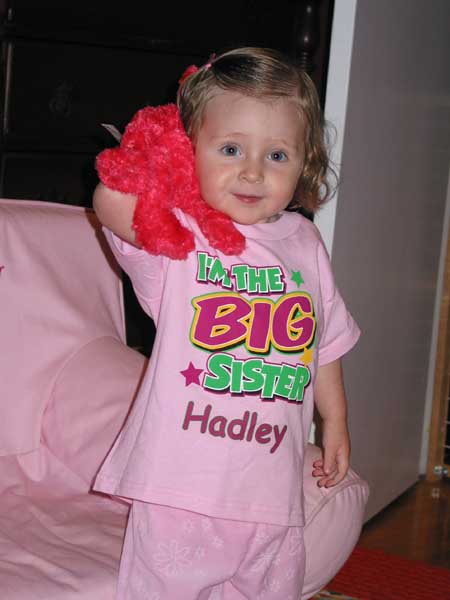 If you haven't seen that picture before, we suggest you click here.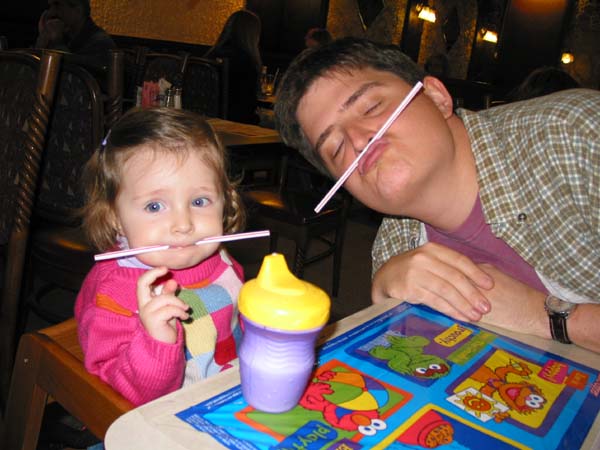 Hadley and Daddy playing with straws.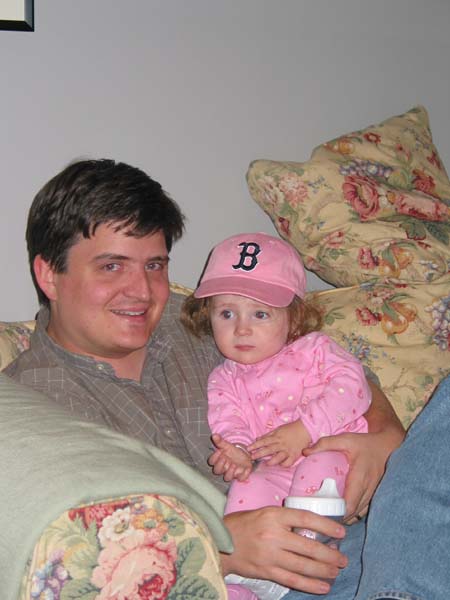 We would be remiss if we did not mention the Red Sox' recent World Series victory. We thought it was such a big occasion that we woke Hadley up for it. She didn't really care at the time (and sort of resented being woken up at midnight), but Molly is convinced she will appreciate it when she is older.
And now..... HALLOWEEN!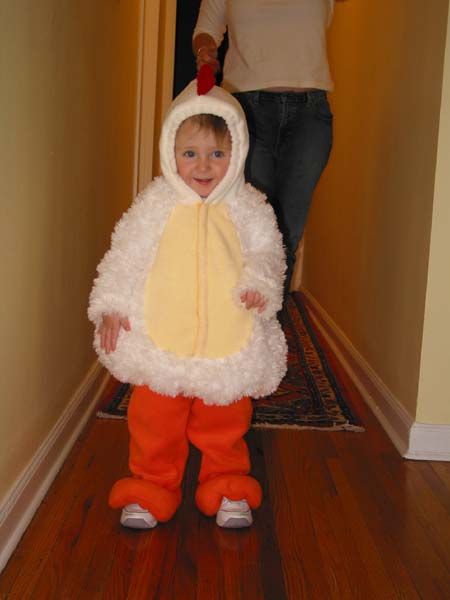 Hadley went as a chicken.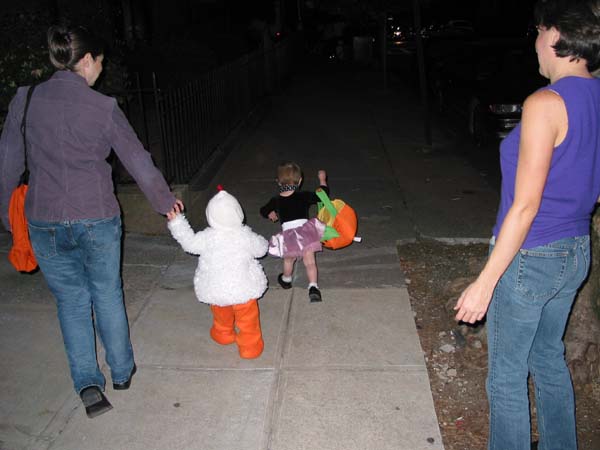 &nbsp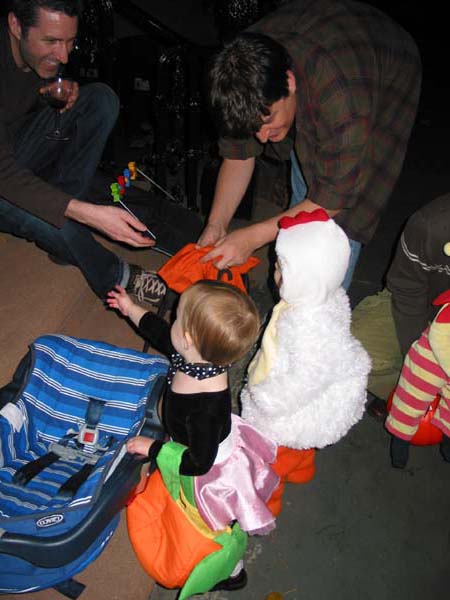 Here we all are trick or treating. Mostly treating.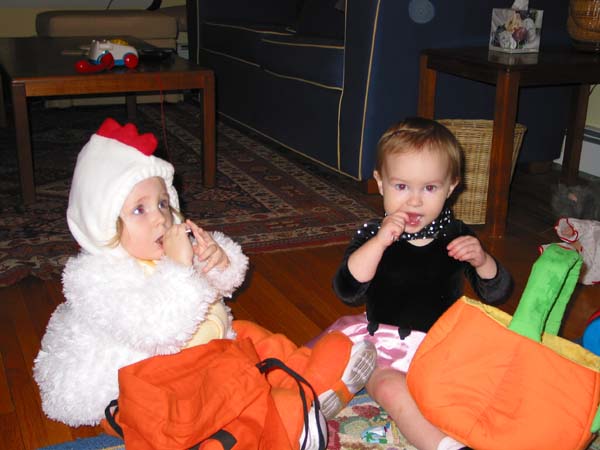 Enjoying the loot. The little girl on the right is Hadley's friend Ella who dressed as a 50s girl....
...at least at first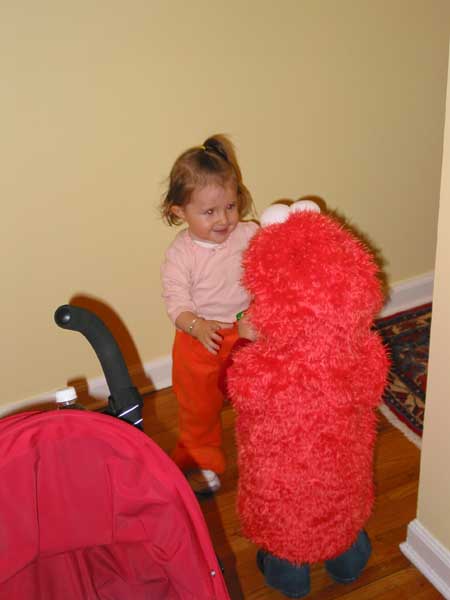 Much like Hadley last year, Ella actually had two costumes. The second one was Elmo (from Sesame Street, of course). Hadley loves Elmo (whom she calls "Melmo") so she was thrilled to find him standing in our hallway.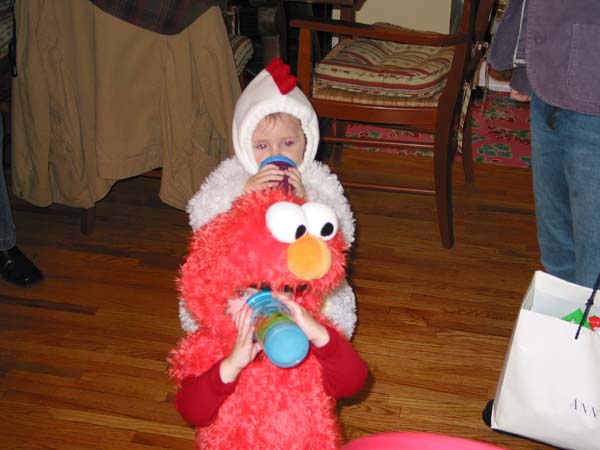 Refueling for a second trip outside.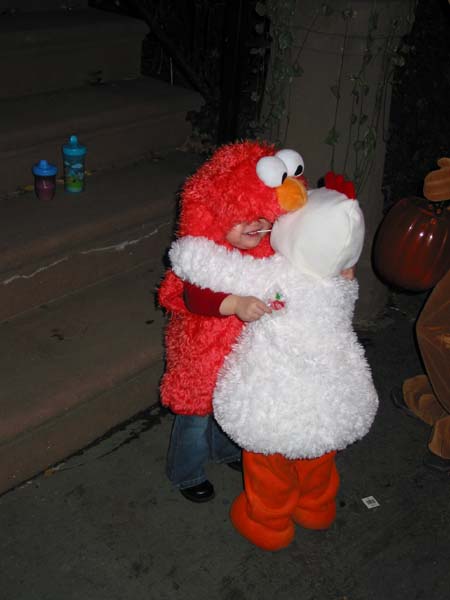 Hadley and Ella/Elmo hugging.
We only let Hadley have a lollipop and some smarties, but that was enough sugar to send her into laughing fits for about 5 minutes. She laughed all the way into her room, where she sat down in her chair and announced "Night night!" It was time for Halloween to come to an end.
If you want more Halloween pictures, Molly put up an oFoto account for them, so click here for more.
Here she is the day after Halloween in the park.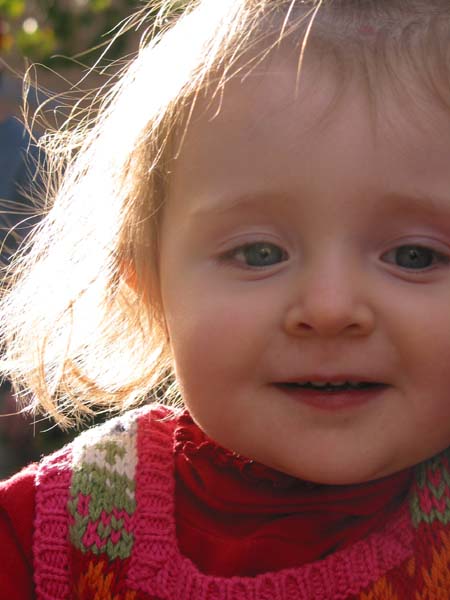 EXTREME CLOSE-UP!
Well, that is all for now. Happy Halloween (and, knowing our own limitations, Happy Thanksgiving, too!)
August 14, 2004
What a couple of months it's been!
Summer in New York City has seen Hadley really take to walking around. It's also witnessed the appearance of more teeth (including some molars) and many more words (or attempts at words) from Hadley's mouth. Our little baby girl is slowly but surely turning into a beautiful little toddler, and we just couldn't be prouder of her!
Well, enough of the Proud Father speech, here is the latest installment of Hadley on film!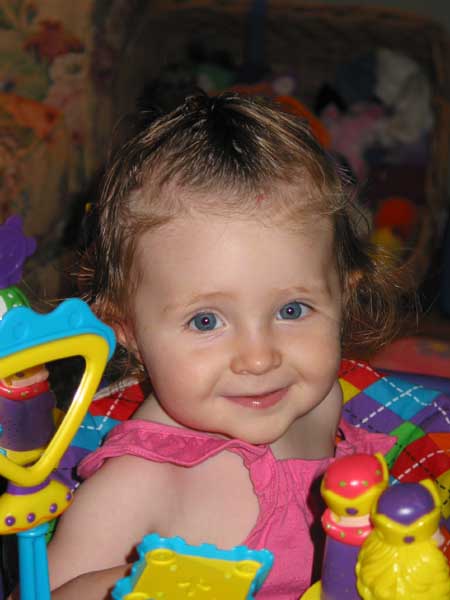 This is Hadley's first French braid. We're not posting this picture because of that, though, we just think it's a cute picture.
At the end of June, Skadden (where Jamie works) organized a family fun day at Chelsea Piers in New York City. Chelsea Piers is a sports and recreation complex, with batting cages basketball courts, a driving range, bowling, etc.
&nbsp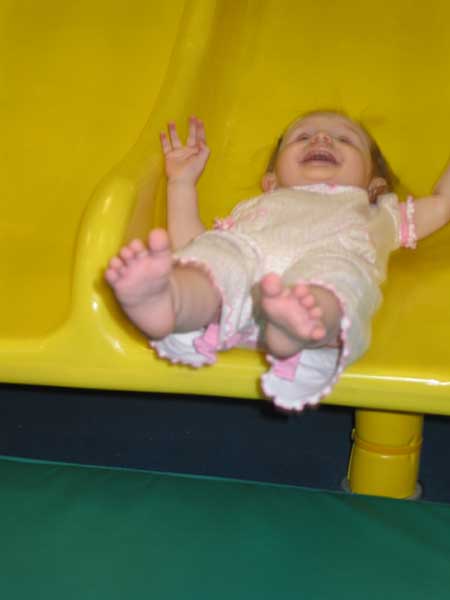 As you can see, they also have a children's play center. Hadley loved the ball room and the slide.
For the 4th of July, Molly and Hadley were on Cape Cod with the Goggins clan.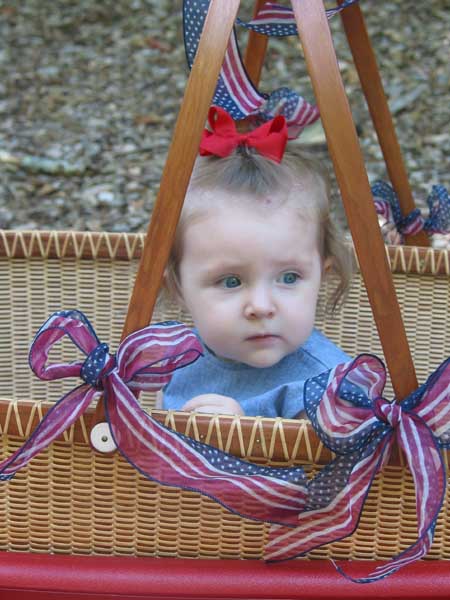 They also marched in the 4th of July parade in the town over where the Kennedys live.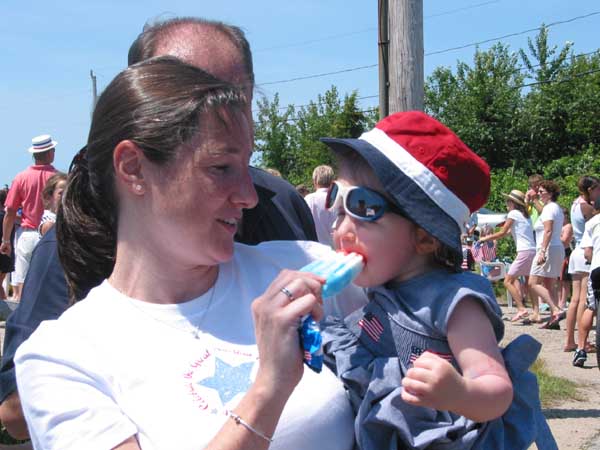 Best of all, free popsicles at the end!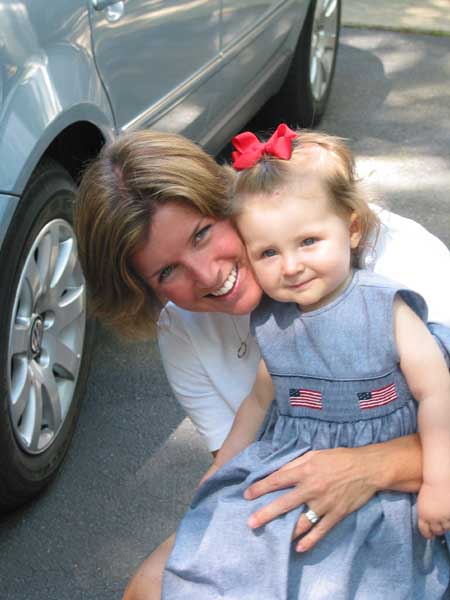 Same day, here is Hadley with her Aunt Erin.
The next weekend, Molly, Erin and their sister Bridget threw Pat and Denise Goggins a surprise (sort of) 35th Anniversary Party. This being the Hadley page, we'll share some pictures of Hadley from the party.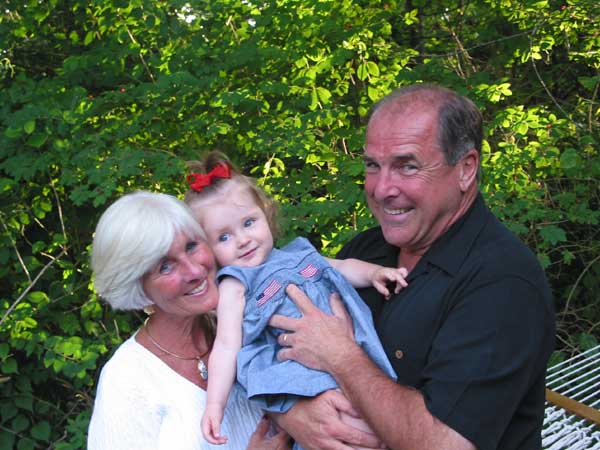 This is Dinny, Pop and Hadley. I don't think you need us to tell you who is who.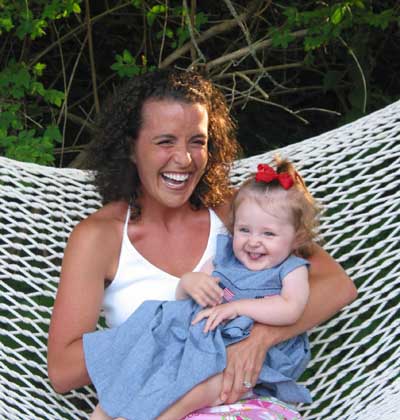 And here she is with her godmother Jill.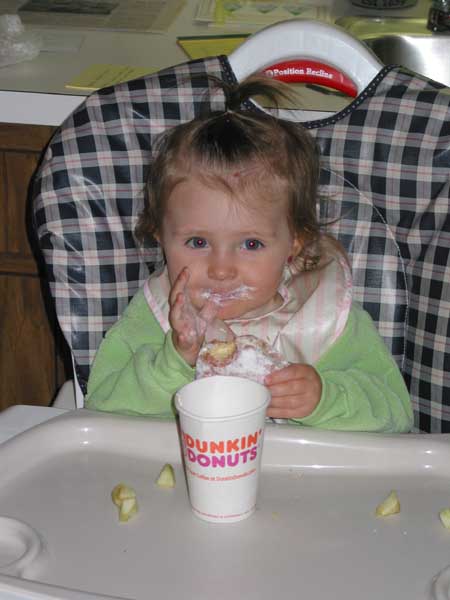 This is not from the party, but a few days later. Hadley tried her first donut!
Finally, Molly took Hadley to the Central Park Zoo in August.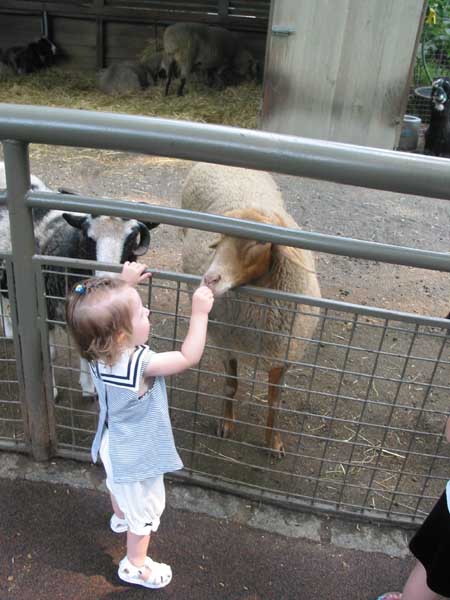 &nbsp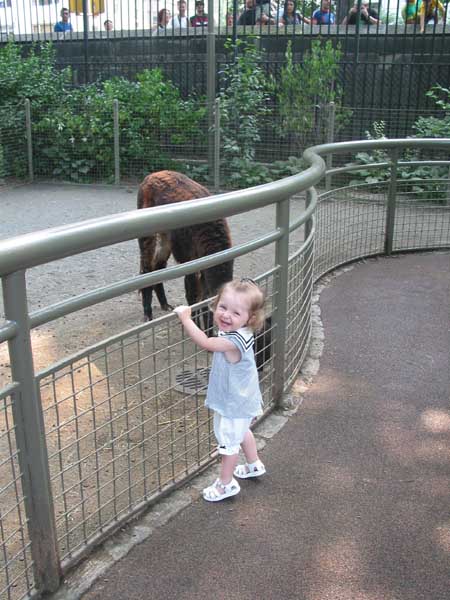 She had a great time, of course.
See you next update!
Back to the Hadley page
Back home