Hadley
May - August 2004
June 22, 2004
Yes, it's been a very long time since the last update. At this point, we're just going to have to stop apologizing for it since it's now become our standard operating procedure. That said, this one was really late, so we're sorry for that.
Since our last update, Hadley has once again made some major advances:
She says some words! (mostly "Uh oh" and various animal noises, but she is definitely saying "Daddy" (Daah-gee) and we think she has some version of "Mama" (sometimes combined with "Uh oh"), "Bye bye" and "Hi")
She fills in the blanks for G, P, V, Z in the alphabet song!
She climbs! (stairs and low furniture)
She eats! (after something of a hunger strike this winter)
She stands! (but mostly just when she forgets to hold on to something)
And.....(drum roll please)...she walks!
Well, she almost walks. She is already quite the pro at stepping along as Molly or Jamie hold her hands (see the pictures below, for example). Just yesterday, though, she took her first tentative solo steps after letting go of the table she was holding on to. She didn't get more than a step or two, of course, but you can see in her face that she is plucking up the courage to really go for it.
And now, on with the most recent crop of pictures!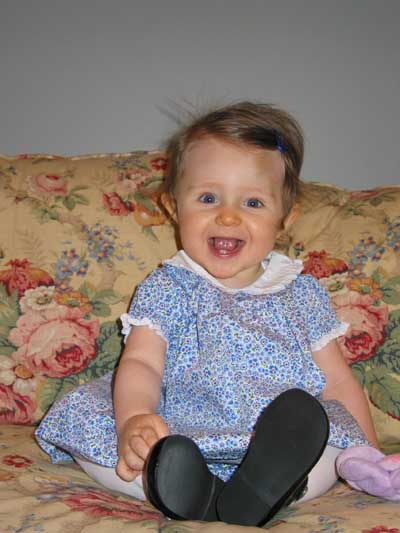 For Easter this year, Hadley had a very pretty blue dress and some lovely bunny ears to play with. Dinny was here, and she brought down some of Molly's old toys, including the Cabbage Patch Preemie shown in the picture above. She sleeps with it now.
While Dinny was here, Hadley also tried her glasses.
For a while now, we've had rubber padding down in Hadley's main play area. Toward the end of April, though, Hadley figured out how to take it apart. Coincidentally, just a few days later, we decided it was time for the matting to go...
Believe it or not, we don't have any pictures to show you for the month of May.
During the week after Memorial Day, we went to an island off of South Carolina called Kiawah. Pops and Lulie were there, as were Aunt Lane, Uncle Thorne and Hadley's cousins Mills and Ellery.
Kiawah is designed around golf, but it also has great beaches with water that gets deep very gradually. Perfect for Hadley!
We're planning to put up a separate page on Kiawah where we'll show you the alligators and other sites (including the big fish Jamie caught - really!), but here are some Hadley pictures for your viewing pleasure.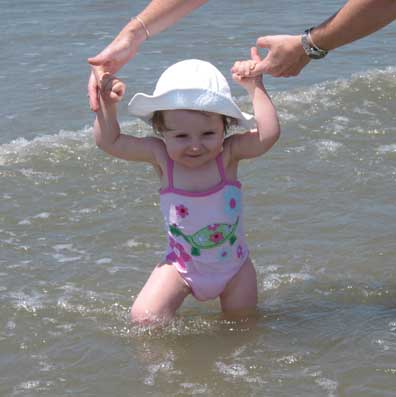 She was very brave about walking into the ocean. Just hold her hands and she would tromp right into the water and wouldn't stop even when the waves started sloshing over her belly or splashing her face.
One of Hadley's favorite games is opening and closing doors. In Kiawah there were plenty of doors for her to enjoy.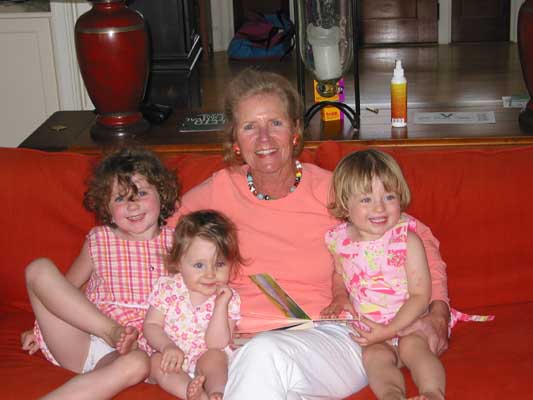 This is Lulie, Mills, Ellery and, of course, Hadley posing for a group photo in Kiawah. Classy ladies all!
While in Kiawah, Hadley discovered the wonders of Jello. Here she is back in Brooklyn cramming it in.
Just last weekend, Jamie took Hadley on her first crossing of the Brooklyn Bridge! (As an added bonus, we also saw the Olympic flame pass by, but the pictures are pretty boring)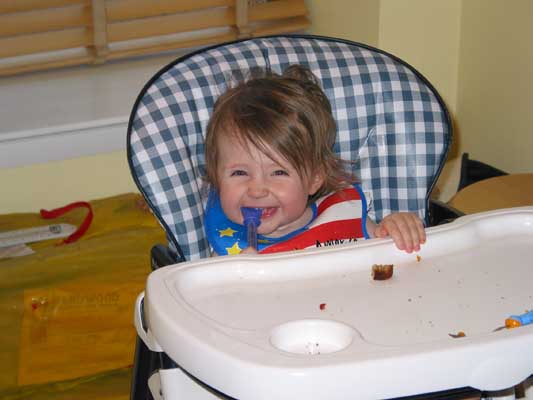 As it happened, that same weekend Hadley developed a high fever. Jamie gave her some Motrin, and Hadley really enjoyed playing with the dropper afterwards.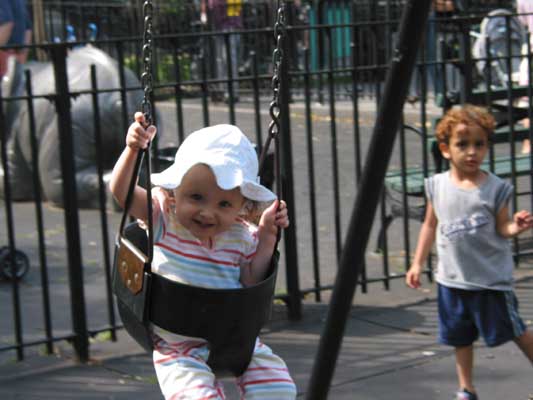 The next day, Hadley was feeling much better, so we all went to the park. Hadley always enjoys the swings.
Finally, that day we let her try her first Oreo. She enjoyed that, too!
Ok, that's all for this update. We'll try to do our next update in less than 2 months, but we can't make any promises.
Back to the Hadley page
Back home