Hadley
January - April 2004
April 5, 2004
Once again, it's been a very long time since the last update, and we know how that upsets you. In an effort to give you your Hadley fix, and in order to tide you over for another couple of months, we're giving you a whole ton of pictures.
(Technical note: we've provided lower resolution pictures so that the page loads faster)
Major events since the last update:
She's had her first birthday!!!
She stands!
She's been in a pool!
She claps (with two hands, instead of just one)!
She quacks like a duck!
She baas like a sheep!
One of these days, we'll figure out a clever way to get audio clips on the website, but for now you will have to make do with the abundance of pictures to follow....
This was Hadley's Valentine's Day outfit.
This is Hadley after a nap. She's pulled out the elastic Molly put's in her hair to keep it out of her eyes.
Yes, she sort of looks like a little boy in this picture, but for some reason this particular picture really shows off her eyes, so we wanted to share it.
This pair of pictures comes from Hadley's first time riding the rides in the park. I really like the picture on the right of her in the swing.
Hadley is standing pretty much all the time now, and is adept at moving herself along the edges of furniture. We're looking forward to the day when she decides to venture out into the great expanse in the middle of the room.
We don't remember what Hadley was eating to make her face all orange like this, but she sure enjoyed her bath right afterwards!
At the beginning of March, Molly took Hadley down to Florida for a week. While there, she had her first ever experience in a pool.
She also went to the beach. I like the picture on the right where she is looking at the bubble.
While in Florida, Hadley had a little pre-birthday party. She put on a very pretty dress, and then proceeded to maul a slice of cake.
On her actual birthday, Hadley tried ice cream for the first time. She didn't really like it, but we're sure she'll learn...
For her birthday, and in honor of St. Patrick's Day, Hadley got an Irish sweater, a pair of mittens, and a hat. The hat didn't make it into the picture, but everything else did.
This is the first of an annual ritual. Hadley's grandmother Dinny bought her this sweater and, from here on out, we will take a picture of Hadley wearing it every year on or close to her birthday. We are really looking forward to watching her grow into it!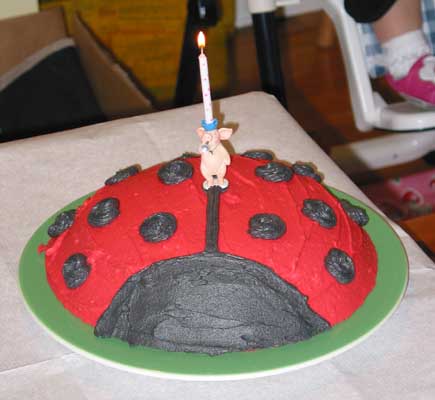 Back in Brooklyn, we had an actual first birthday party for Hadley on the 26th. Molly made this cake. It looks like a ladybug because that is our pet name for her.
Hadley had a special first birthday outfit for the day, which you can see on the left. On the right, you can barely see her first birthday bib. On a side note, we noticed that almost every picture in our last update showed Hadley with a wide open mouth, so these are to fill our quota.
Finally, Hadley wasn't quite sure what to do with the cake, so she put in on her head and rubbed it around her face. Hey, it's her birthday, so she can do what she likes.
We hope this can tide you over for a little while. See you semi-soon!
February 9, 2004
Oh, what a week we've had! Without any warning, Hadley picked up a bunch of new tricks to show off:
She crawls!
She shows us how big she is!
She waves!
She fakes kisses!
She claps!
She plays peek-a-boo!
We don't have pictures for all of these, but we'll show you what we can.
This isn't any of those things, but it's the best picture. Hadley learned to splash in the tub a few weeks ago and, as you can see, enjoys it very much.
This is also none of those things. We just think it's cute.
This is Hadley showing us how big she is. When you say "How big is Hadley?" she raises her hands over her head to say "Sooo big!"
This is just after a "Sooo big!" Hadley loves this game.
It's hard to tell in this picture, but this is Hadley clapping. She can't manage to make the same sound we do when we smack our hands together, so she does the best she can by slapping the back of one hand with palm of the other one. Clever, eh?
Crawling! This literally started two days ago (on Saturday), but she's really getting the hang of it.
January 13, 2004
"Finally!" you say, "An update!"
Yes, over the past month (and a half), Hadley:
Was christened!
Had her first Christmas!
Had her first New Years!
Had her first plane flight!
So, needless to say, there are a lot of pictures to catch up on. Let's get to it!
This has nothing to do with the events we just mentioned. It's just a cute picture of her in the bath.
Hadley with Pops the day of her christening. She is now officially ok with God, so far as the Episcopalians are concerned.
Twas the night before Christmas...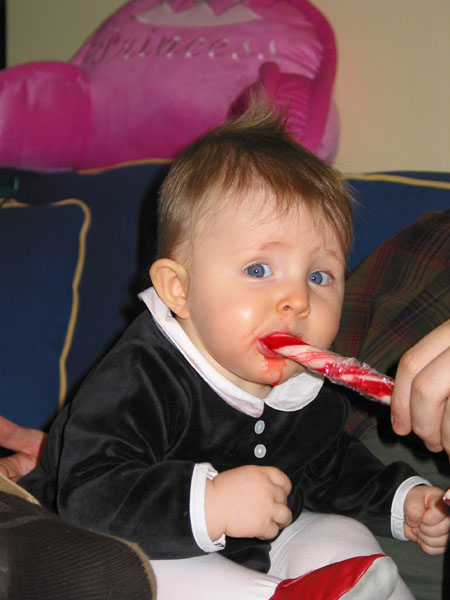 Specially for Andrew Woodard (who donated the candy cane, and apparently took a multimedia class at NYU) this is Hadley's first ever candy cane. In fact, it's her first ever candy. As you can see, she enjoyed it!
For New Years, we all went down to the Outer Banks, in North Carolina. This was Hadley's first plane flight, and she was a trooper; she slept the whole trip down and almost the whole trip back!
It was warm enough to go to the beach, so we did.
Molly got these novelty binkies for Hadley for Christmas. When she puts it in her mouth, I can't help but think of the scene in A Christmas Story where Randy is snuffling up the food on his plate while giggling like a chipmunk.
The other binky is, of course, buck teeth. If you look closely, you can tell that Hadley is smiling.
Hadley is getting so close to pulling herself up to standing! She's managed to get herself from sitting to kneeling, which is a pretty good start.
That's all for now, folks. See you in February....or maybe March (when Hadley will be turning one!)


Back to the Hadley page
Back home