Hadley
March-May 2003
May 18, 2003
Well, as of two days ago, Hadley is 2 months old, so we thought we'd celebrate with some more pictures.
Plus, people have been bugging us to update the site...
To start things off, we are thrilled to announce that Mike Conathan and Jill Fioretti have agreed to be Hadley's godfather and godmother, respectively.
That is Mike, obviously. In the interest of full disclosure, we should point out that we took this picture long before actually asking him to take on godfather responsibilities.
And that is Jill, the day after she agreed to be godmother.
So what does it mean to be a godparent? Well, there is a fair amount of information out there, and it varies from religion to religion, but to us, we hope that Hadley's godparents will support our efforts to raise her as a moral and caring person (Hopefully her moral whole will be more than the sum of our moral parts!).
A few weeks ago, Molly took Hadley up to Northampton for her sister Erin's bridal shower. Here are some pictures from that visit:
She looks so chubby in this picture!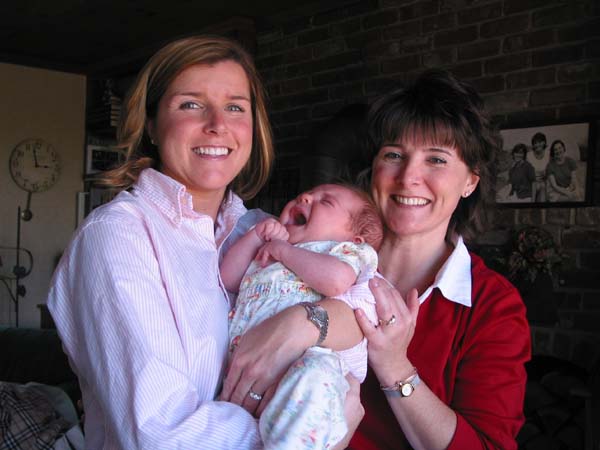 With Aunt Erin (left) and Aunt Bridget (right). That weekend was the first time they'd seen her in person.
With grandfather Pat (aka "Pop").
And finally:
April 20, 2003
Happy Easter!
April 13, 2003
Now that you all have your taxes in, we figured you might want to see some more Hadley pictures. Things are still going very well here, and Hadley is growing quickly. She is already almost too big for the little pink outfit she wore home from the hospital!
Enough blather! On with the pics!
First, some general pictures.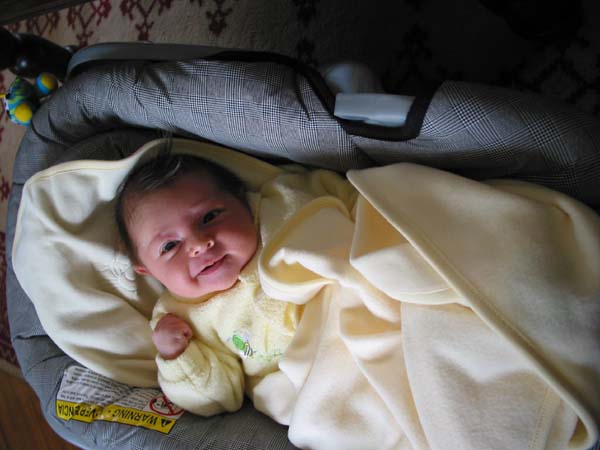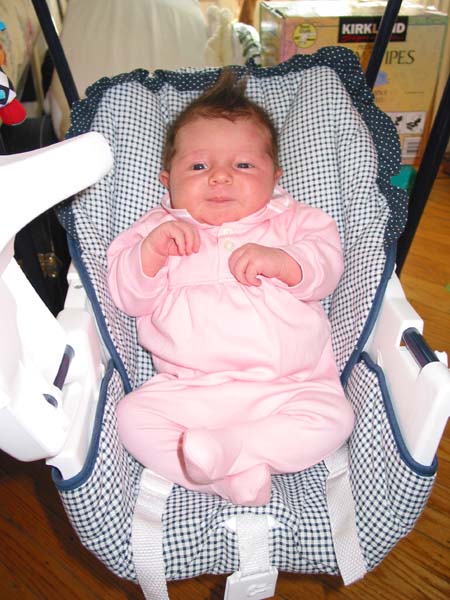 Next, her first bath!
Her first smiles! (at least, we think they're smiles)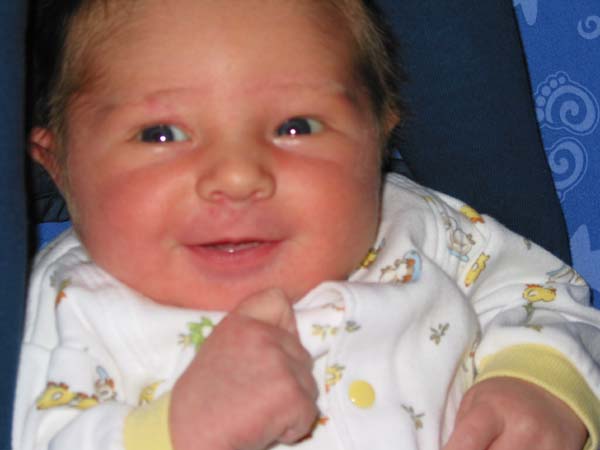 A nice picture of the whole family.
And finally, in honor of opening day, Molly dressed her up like this:
As many pointed out, the fact that she is already crying over the Red Sox shows she is a true fan.
Of course, as a native New Yorker, she will be a Yankees fan...
April 2, 2003
Hadley is still doing very well, we're pleased to say. We think she's just learning to smile, which is always fun, and her legs and neck are getting stronger and stronger every day.
But here's what you really want to see: pictures!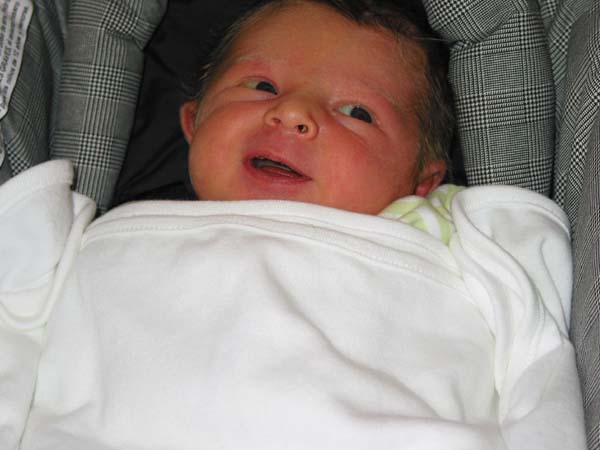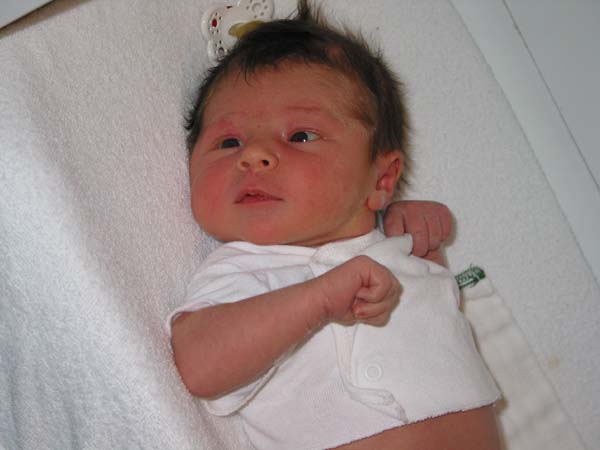 With Pops (a.k.a. Had), from whom she got her name.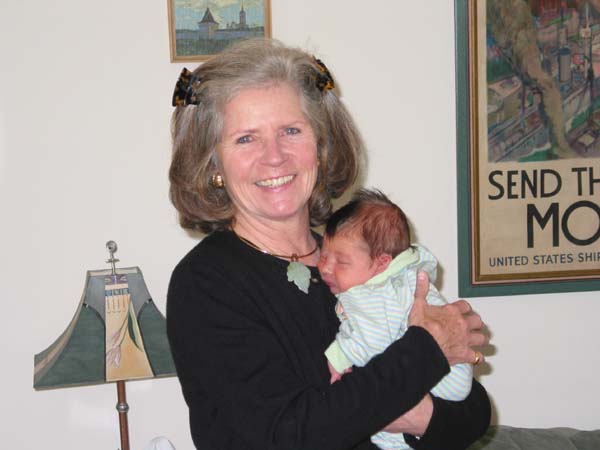 With Lulie (a.k.a. Louise).
My girls.
March 21, 2003
On Thursday, after I got dressed I walked into the living room to find this:
How could I not post it?
March 20, 2003
Pictures!
More from March 16 (just after she was born)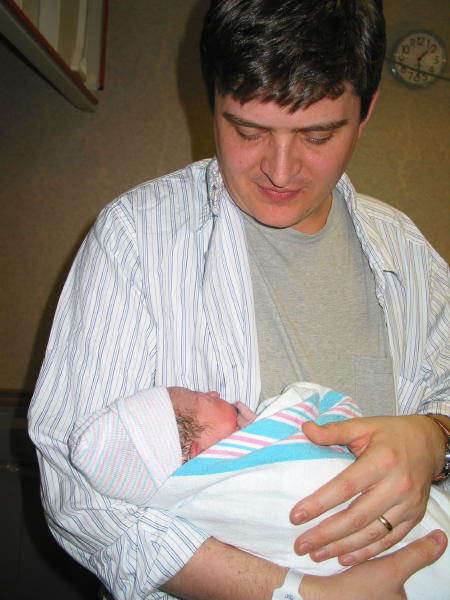 (In Jamie's arms)
(With Denise, Molly's mother)

Also from March 16, but later in the day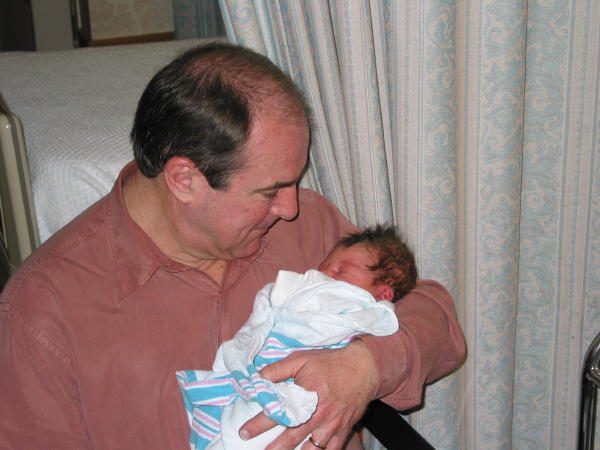 (With Pat, Molly's father)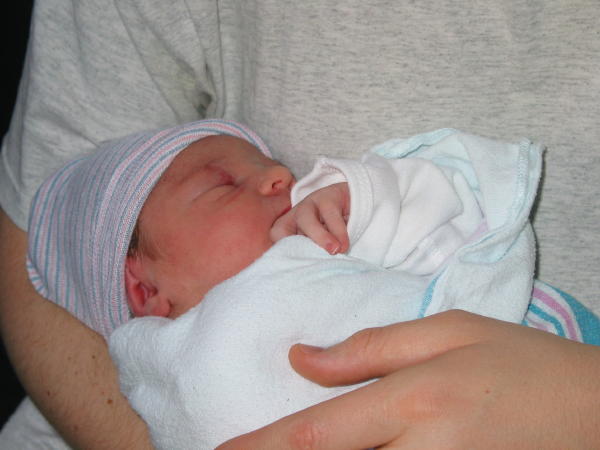 (In Jamie's arms)

From March 17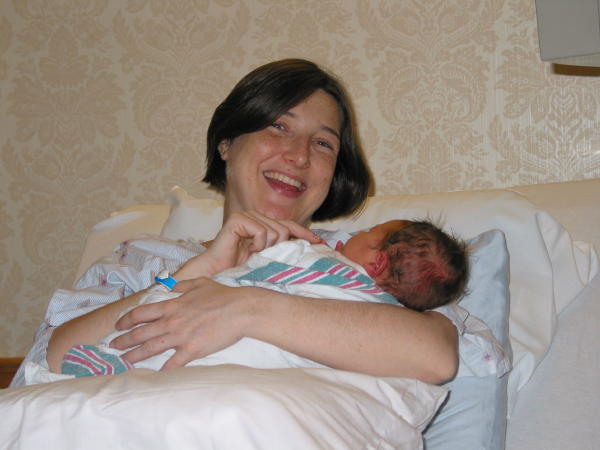 From March 18
(Getting ready to go home from the hospital)
(In the beautiful bassinet made by Denise)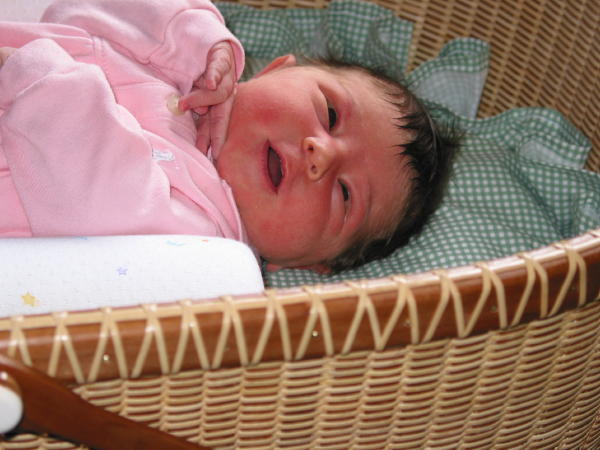 (Again in the beautiful bassinet made by Denise - the crossed eyes will work themselves out as she builds up the strength in her eye muscles and as she starts to see better and notices that things do not look right)

Finally, from March 19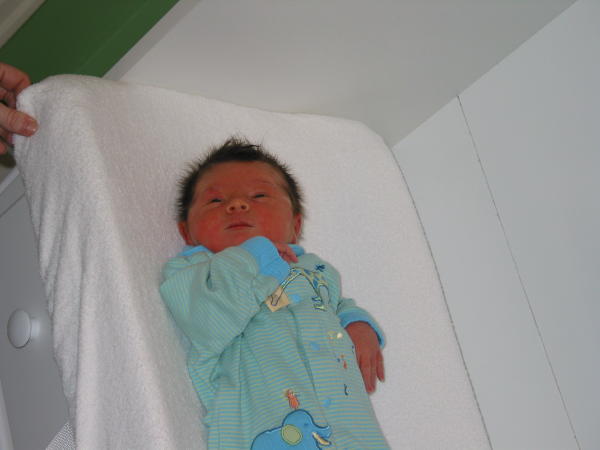 (Just after her first bath - look at her fuzzy head!)
We've had two nights at home now and everything has been great. Hadley is sleeping very well (the first night right in the bed with us, the second night in the bassinet propped across two chairs next to our bed) and really has not cried much if at all.
Molly and I could not be happier. We just love to sit and watch her, even when she is sleeping (which is most of the time). In all seriousness and without a shred of parental bias (right), I have to say that we think Hadley has been really wonderful and is the cutest thing imaginable.
I will try to get Molly to write an update soon.
March 16, 2003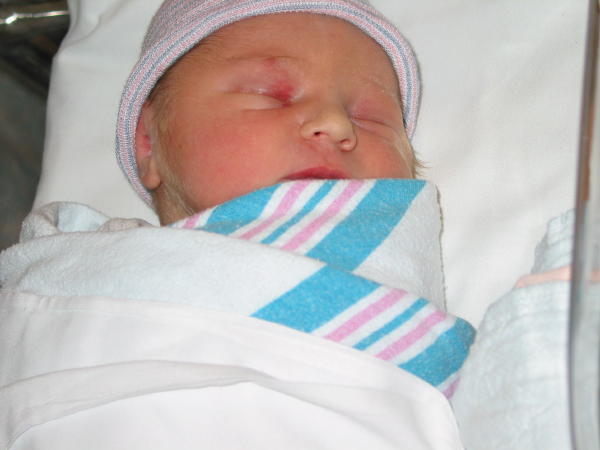 Molly and I are very pleased to announce the birth of Hadley Kane Talbot at 1:02 AM on Sunday, March 16, 2003.
We will provide more information soon, but we know you are dying for something so here is the short version:
8 lbs, 3 and a half ounces.
We were induced, and the process took 3 hours start to finish!
Molly and Hadley are doing great.
Stay tuned!
Back to the Hadley page
Back home